Edu Game Jam in Hämeenlinna, Day 1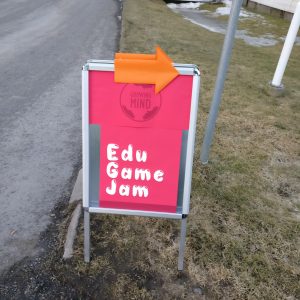 Edu Game Jam 2018 started yesterday at ITK conference in Hämeenlinna, Finland. The jam brings together coders, teachers, artists, sound designers, and researchers for three days in order to create educational games together.
Main organizer and host Annakaisa Kultima revealed the theme of the jam: vino. In Finnish means crooked, slanted, skew, oblique, or queer. After inspirational presentations by Mikael Uusi-Mäkelä from TeacherGaming and Leevi Rasila on behalf Game Design World Championship, the jammers brainstormed ideas. Some of the participants have been frequenting game jams for as long as they have been organized in Finland while others were at their very first event. Four game concepts emerged: philosophical coding, cute molecules, identifying compound words, and apocalyptic co-op in Swedish.
The jam is actually happening right outside the ITK venue, in a wonderful rented aquarium truck. The truck has been pimped with legos, lamzac chairs, plush toys, hardware provided by our sponsor Lenovo, candy, plants, as well as the most import
ant ingredients: coffee and tea.
The games will be available for playing for the conference guest on Friday from 13:00 to 15:00.
Edu Game Jam 2018 is organized by Finnish Game Jam together with Growing Mind research project, supported by Lenovo and Finnish Ministry of Education.